ACADEMIC DEGREES & PROFESSIONAL EXPERIENCE


Licentiate in Philosophy from Colegio Máximo, Universidad del Salvador, Buenos Aires, Argentina (1971).
Diploma in Documentation from Lehrinstitut für Dokumentation, Frankfurt am Main, Germany (1973).
Research worker at Zentralstelle für Atomkernenergie-Dokumentation (ZAED), Karlsruhe, Germany (1974-75).
Dr.phil. in Philosophy from Düsseldorf University (1978). Thesis: Information.
Assistant to Scientific Director, Fachinformationszentrum Karlsruhe, Germany (1980-85).
Postdoctoral teaching qualification (Habilitation) in Practical Philosophy (Ethics) from Stuttgart University (1989).Thesis: Hermeneutik der Fachinformation ("Hermeneutics of scientific information")
Lecturer / Privatdozent at the Institute of Philosophy, Stuttgart University (1989-2004)
Professor of information science and information ethics at Suttgart Media University, Germany (1986-2009).


Member of the European Group on Ethics in Science and New Technologies (EGE) to the European
Commission (2000-2010)
Steinbeis Hochschule Berlin: Transfer-Institute Information Ethics, Director (2008-2013).
Member of the Advisory Board of the Institute for Digital Ethics (IDE), Stuttgart Media University (since 2014)
Emeritus Member of the Board of Advisors, ID4Africa (2014-2018).
Senior Fellow of the Graduate School of Humanities and Social Sciences, University of Tsukuba, Japan (2014-2019)
Research Associate at the Department of Information Science, University of Pretoria, South Africa (2020-2022).
Founding Member des World Technology Network (WTN).
Distinguished Researcher in Information Ethics, School of Information Studies, University of Wisconsin-Milwaukee, USA (2010-2012)
Member of the Advisory Board for Integrity and Corporate Responsibility of Daimler AG (May 2016 - July 2017)
Member of the Executive Board of Responsible Robotics.


See: Life in Translation
See: Certificates




CAPURRO FIEK FOUNDATION
Founder


Rafael Capurro and Michael Nagenborg (Eds.): Ethics and Robotics. Heidelberg: Akademische Verlagsgesellschaft / IOS Press, 2009.



BITrum
Philosophy of Information



Glossarium BITri. Interdisciplinary Elucidation of Concepts, Metaphors, Theories and Problems Concernning Information. Coordinators: José María Díaz Nafría, Mario Pérez-Montoro Gutiérrez, Francisco Salto Alemany. Contributions on: angeletics, hermeneutics, intercultural information ethics, message, roboethics, information ethics. Universidad Estatal Península de Santa Elena (ed.), Ecuador, 2016.
Research Fellow of the Graduate School of Library and Information Science (GSLIS), University of Illinois at Urbana-Champaign, USA (2003-2005).
Senior Fellow in Information Ethics, Center for Information Policy Research, School of Information Studies, University of Wisconsin-Milwaukee, USA (2007-2008; 2009-2010).
Distinguished Researcher in Information Ethics, School of Information Studies, University of Wisconsin-Milwaukee, USA (2010-2012).
Distinguished Researcher at the ACEIE, Department of Information Science, University of Pretoria, South Africa (since 2012).
Senior Fellow of the Graduate School of Humanities and Social Sciences, University of Tsukuba, Japan (2014-2018)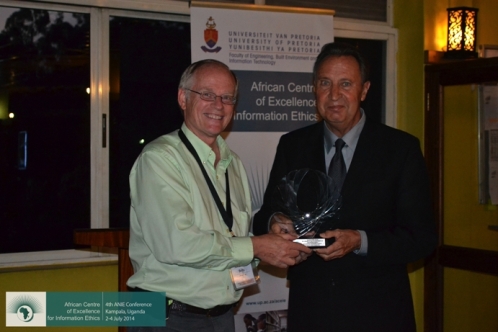 Thanks and Responses by Rafael Capurro
Reviews:
Elena Maceviciute (University of Borås) Information Research, 22(2) 2016, no. R594
Delmus E. Williams (Walden University), The Journal of Academic Librarianship, 43/3, May 2017, 276
Charles Sturt University: Book honours study of information, philosophy and culture 18 Apr 2017
Jefferson Veras Nunes (Universidade Federal do Cearà) Informação em Pauta, Fortaleza, v.2, n.1, p. 119-126, jan/jun 2017
Gustavo Silva Saldanha IIBICT, Rio de Janeiro), Grace Quaresma Fugazza (UNIRIO, Rio de Janeiro)Informatio 22 (1), 2017, 51-68
Co-Editor

ICIE-Series on Information Ethics (2002-) Munich: Fink Verlag.
Editors: Rafael Capurro, Thomas Hausmanninger

Schriftenreihe Medienethik (2002-). Stuttgart: Franz Steiner Verlag
Editors: Rafael Capurro, Petra Grimm


Member of the Editorial Board
Information Science and Knowledge Management (Springer)
Ed. John Mackenzie Owen

Foundations of Information Science
Information Ethics
Bioethics
Information Management
Angeletics: Work in Progress
Philosophy of Information
Hermeneutics


Lecture "Beyond Humanisms" at the Uehiro/Carnegie/Oxford Conference 2010, Uehiro Centre for Practical Ethics, St. Cross College, Oxford.





New Dilemmas, Same Principles: Changing Landscape Requires IT Ethics to Go Mainstream by George Lawton (Computing Now, News, July 2009).


Interview mit Michal Lorenz, Czech Republic (2009).


International Society for Ethics and Information Technology (INSEIT): Member Spotlight (2008).

Keynote address: "Interpreting the Digital Human" to the conference "Thinking Critically: Alternative Perspectives and Methods in Information Studies" organized by the Center for Information Policy Research, School of Information Studies, University of Wisconsin-Milwaukee Wisconsin, May 15-17, 2008. Video


Open Forum Davos 2008 in cooperation with the Annual Meeting of the World Economic Forum and the Schweizerischer Evangelischer Kirchebund, Section: "Virtual Worlds: Fiction or Reality?", Participants: Philip Rosedale (CEO, Linden Labs/Second Life), Joseph Weizenbaum (MIT, USA), Reid Hoffman (President, LinkedIn Corp., USA), Florence Develey (Reinach/Basel), Rafael Capurro (HdM). Moderation: Loïc Le Meur (Seesmic, USA), Davos, 26. January 2008: World Economic Forum: Webcasts, Podcasts, Vodcasts. Open Forum Davos: Blog -> Webcast.

On Hermeneutics, Angeletics, and Information Technology: Questions and Tentative Answers Interview mit Tadashi Takenouchi, Japan (2003).


See also here.




CLINAM

(European Foundation for Clinical Nanomedicine): 6th Global Summit for Clinical Nanomedicine, Basel, June 23-26, 2013. Keynote:

Medicine in the Information and Knowledge Society. An abridged version was published in Beat Löffler and Patrick Hunziker (eds.): CLINAM 6/13 European Summit for Clinical Nanomedicine and Targeted Medicine, Conference Proceedings 6/2013, European Foundation for Clinical Nanomedicine, Basel 2013, p. 94. The complete version was published under the title: Medicine 2.0. Reflections on a pathology of the information society, in: Innovation. journal of appropriate librarianship and information work in Southern Africa. Special Issue: Information Ethics (ed. Stepehn Mutula), Number 46, June 2013, pp. 75-96.

The Gauteng Province Seminar on Information Ethics. Presentation: Why Information Ethics? (PowerPoint), University of Pretoria, South Africa, September 11, 2013.
TABULA RASA

(EU Project Trusted Biometrics under Spoofing Attacks), Symposium, Rome May 3-4, 2012
Beyond Humanisms. In: Rafael Capurro and John Holgate (Eds.): Messages and Messengers.

Contributions to the Glossarium BITri (Glossary of concepts, metaphors, theories and problems concerning INFORMATION)
Ethics and Public Policy in Europe. In Stefano Rodotà and Paolo Zatti (Eds.): Trattato di Biodiritto. Vol.1 Stefano Rodotà and Mariachiara Talllacchini (Eds.): Ambito e fonti del biodiritto. Milano: Giuffrè Editore, 2010, 849-860.
In search of a code of global information ethics: The road travelled and new horizons (R. Capurro and Johannes Britz). In Ethical Space (2010) vol. 7, No. 2/3, 28-36.
Conference Neuroscience and European and North American Case Law organized by the Interdepartmental Research Centre ECLSC, University of Pavia, in cooperation with the Court of Milan, Keynote: Ethical Aspects of ICT Implants in the Human Body (PP), Milano, 17. September 2010..

The German Debate on the Information Society In: Journal of Information, Communication & Ethics in Society, volume 2, supplement 2004, p 17-18.

Between Trust and Anxiety. On the Moods of Information Society. In: Proceedings of the Conference "The Age of Information: New Anxieties - New Opportunities" Institute of Communication Ethics Lincoln, UK, June 14, 2004.
Ethics Between Law and Public Policy. In: Journal of International Biotechnology Law (JIBL) (2004) Vol. 1, Issue 2 / 2004, 62-66.
Skeptical Knowledge Management In: Hans-Christoph Hobohm (Ed.): Knowledge Management. Libraries and Librarians Taking Up the Challenge. IFLA Publication 108, Munich: Saur 2004, 47-57.
Passions of the Internet and the Art of Living. Paper presented at a colloquium organized by The Graduate School of Library and Information Science, University of Illinois at Urbana-Champaign (USA), September 19-24, 2003.
Angeletics - A Message Theory. In: Hans H. Diebner, Lehan Ramsay (Eds.): Hierarchies of Communication, ZKM, Center for Art and Media, Karlsruhe (2003), 58-71.
Engineering Humans. In: World Technology Intelligence (2003), Issue VI, p.16.
The Concept of Information (Co-author: Birger Hjørland). In: Blaise Cronin (Ed.): Annual Review of Information Science and Technology (ARIST), Vol. 37 (2003) Chapter 8, 343-411.
1999
Beyond the Digital Paper presented at the International Festival for Film Video and Media Symposium (VIPER 99), "Cut & Copy," Lucerne (Switzerland), October 29-30, 1999.

Ethical Aspects of Digital Libraries. In: Tatjana Aparac, Tefko Saracevic, Peter Ingwersen, Pertti Vakkari (Eds.): Digital Libraries. Interdisciplinary Concepts, Challenges and Opportunities, Zagreb, Proceedings of the CoLIS 3 Conference, Lokve 1999, 39-53.
Is a Unified Theory of Information Feasible? A Trialogue (Co-authors: Peter Fleissner, Wolfgang Hofkirchner). In: W. Hofkirchner (Ed.): The Quest for a Unified Theory of Information. World Futures General Evolution Studies, Ervin Laszlo (Ed.), vol. 13, Overseas Publishers Assoc. 1999, 9-30.
Stable Knowledge? Paper presented at the Workshop: Knowledge for the Future - Wissen für die Zukunft, Brandenburgische Technische Universität Cottbus, Zentrum für Technik und Gesellschaft, March 19-21, 1997.

Information Technology and Technologies of the Self. In: Journal of Information Ethics, Fall 1996, Vol. 5, No. 2, 19-28.
On the Genealogy of Information. In: Klaus Kornwachs, Konstantin Jacoby (Eds.): Information - New Questions to a Multidisciplinary Concept. Berlin: Akademie Verlag 1996, 259-271.

On Artificiality. In: IMES (Ist. Metodologico, Economico, Statistico), Università di Urbino (Italy), IMES-LCA WP-15 November 1995.

Informatics and Hermeneutics. In: Christiane Floyd, Heinz Züllighoven, Reinhard Budde, Reinhard Keil-Slawik (Eds.): Software Development and Reality Construction. Berlin: Springer, 1992, 363-375.

What is Information Science for? A Philosophical Reflection. In: Pertti Vakkari, Blaise Cronin (Eds.): Conceptions of Library and Information Science. London: Taylor Graham 1992, 82-96.

On Reliability and Unreliability. A Dialogue. In: Rainer Rilling et al. (Eds.): Challenges. Science and Peace in a Rapidly Changing Environment. Intern. Congress of Scientists and Engineers. Berlin 29.11.-1.12. 1991 (Schriftenreihe Wissenschaft und Frieden, Nr. 16, August 1992), Marburg, Vol. II, 177-179.
Towards an Information Ecology. In: Irene Wormell (Ed.): Information and Quality. London: Taylor Graham 1990, 122-139.

Technics, Ethics, and the Question of Phenomenology. In: A-T. Tymieniecka (Ed.).: Morality within the Life- und Social World. Analecta Husserliana XXII (Dordrecht: Reidel 1987), 475-481.

Tasks, Organisation and Activities of the Fachinformationszentrum Energie, Physik, Mathematik. Report TRITA-LIB-1137 (Royal Institute of Technology Library, Stockholm, Sweden) 1985.

Epistemology and Information Science. Report TRITA-LIB-6023 (Royal Institute of Technology Library, Stockholm, Sweden) 1985.

Moral issues in information science. In: Journal of information science 11 (1985), 113-123.


Last update: September 29, 2020